The over sized men's shirt is one of my favorite go to looks. So easy. So cute!
So I have hit a MAJOR weight loss plateau and I am sooo bummed about it. I have lost 33 pounds so far and have 27 to go. On the bright side I have also been taking my measurements to help motivate me as well. I have lost 8 inches off my hips. WOW! and 4 off my waist. But I will tell you patience is NOT my strong suit and I like to see those numbers on the scale go down.
I am eager to up the weight loss but I can't cut too many calories because I am still breast feeding little Ginger. I know it will come off in time but sheesh I wish it would hurry up already
<a href="http://www.bouffeebambini.blogspot.com/"><img src="http://4.bp.blogspot.com/-GnhzKVyqlu0/TgKfkHjCogI/AAAAAAAAFtc/8z5z_okgBiA/s1600/BB_Haute_Hog.png"/></a>
Men's Shirt: Brooks Brother's
Leggings: Forever 21
Shoes: Payless
Watch: Toy Watch
Gold Knot Bracelet: Gift from my Grandmother
Earrings: Boutique in Brooklyn (Can't remember the name)
Please link up something you wore this week. Would love to see!!!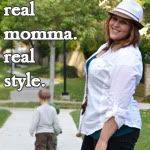 <a href="http://www.bouffeebambini.blogspot.com/"><img src="http://4.bp.blogspot.com/-GnhzKVyqlu0/TgKfkHjCogI/AAAAAAAAFtc/8z5z_okgBiA/s1600/BB_Haute_Hog.png"/></a>