I can't remember now exactly where I got the original idea for these. Somewhere around the web I saw something sweet that was made into a mummy and so I thought I'd try it with cookie pops and not only are they so cute but really easy. Seriously, no cooking at all. It's just assembly. So cute! Happy Halloween!!
What you will need:
2 bags of white chocolate chips
15 Oreo cookies
30 edible eye balls or you could substitute plastic ones and just ensure guests know to remove before eating. I found my edible ones at Hobby Lobby
1 package of lollipop sticks (also found at hobby lobby)
twine or ribbon for decoration
Method:
1. carefully twist the oreos apart ensuring not to break them
2. in the microwave heat up about 1/4 cup of the white chocolate chips until melted. Do this in 20-30 second intervals ensuring no to burn it.
3. Dip your lollipop stick in the white chocolate and then carefully pres into the white Oreo filling and top with remaining Oreo half. Set on a cookie sheet. Repeat until all the oreos have been fitted with sticks. Now place them in the freezer to set.
4. Now heat up one entire bag of the white chocolate chips in a bowl that with easy for dipping. Again, do this in the microwave in 30 second intervals stirring in between. I have found white chocolate is a little more temperamental in the microwave and burns easily. So as soon as it's smooth, it's ready.
5. Now remove your oreos on sticks from the freezer and dip the back portion in the white chocolate. Now get a skewer or small spoon and smooth the white chocolate over the bottom half of the front of the oreo ONLY. You want to leave the back round where the eyes will go dark like the original color of the Oreo. This makes them look more "spooky" :)
6. Now place a little dot of white chocolate on the back of each eye ball and place on the dark part of the Oreo that has not been dipped in white chocolate. Now place them in the freezer again to set.
7. Once set place remaining white chocolate in the microwave to melt. Now get a zip lock baggie and pour the melted chocolate into the bag. Cut a teeny tiny hole in the corner with scissors and begin making your mummy layers. I chose to split my chocolate into 2 bags and I cut one hole teeny tiny and one hole a tint bit bigger so I would get more of a layered effect. If you decide to it this way then pipe the bigger mummy wrapping first, chill, and then do the tiny mummy wrapping last.
VOILA!!!! You have a gorgeous Halloween treat and you didn't even have to cook anything!!!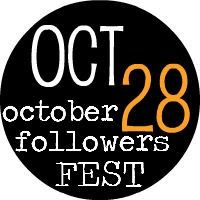 Pin It