Here I am after 3 consecutive 12 hour night shifts and 4 hours of sleep with no makeup. HA!!!!! I don't mind looking a wreck, it's honest!!!
My style comes from all ends of the spectrum. I'm a little preppy and a little Bohemian. I have always loved a classy, classic look. Clean lines, simple colors.
One thing I absolutely L*O*V*E are monograms. I have some monogrammed towels and card stock and a few of my button down shirts are monogrammed on the cuff. I just think there is something so charming and delightful about it. I also happen to love white cuffs on a button down shirt so this is one of my faves from J Crew.
Shirt: J Crew
Jeans: J Brand
Belt: Gap
Shoes: Payless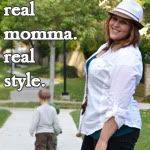 Pin It