Love it or hate it? Hmmmm....I can't decide!!!
One thing is for sure it's "NOT ME"
You know what I mean? It just doesn't suit my personality!


I love all the pieces separately but just not together. Probably won't wear again but thought it was okay for the day!
Sweater: J Crew
Gingham shirt: The Gap
Brown Cords: J Brand
Boots: Banana Republic
Marathon Training Update!
My running is coming along GREAT!!! A few days ago I ran 5.2 miles without even realizing it. I'm hitting my stride now and have never felt better. I am thinking maybe I'll do a half marathon in the spring if I can get up to it by then and then the full marathon in October.
All I know is, I feel a million times better since I've started running!!!! The natural endorphins make you feel like a million bucks, which considering my recent life situation, I NEED!!!!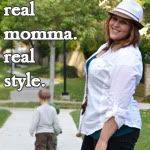 Pin It