Hi everyone! I'm Kara from Happy Go Lucky and I'm thrilled to be Hanna's guest today. She is fabulous... but I'm sure you already know that!
Today we are going to make this darling necklace just in time for the holidays!
All you need are two things: suede lace and wooden beads. I was originally going to paint wooden beads red but then I came across this red beaded garland in the Christmas section of Michael's.
Cut two pieces of string around 42 inches. Take your first string and tie a single knot closest to the center as you can get it. Slide your first bead onto the string and tie a knot right after it.
Add another bead to one side and tie another knot. Then add a bead to the other side of the first knot.
Continue to alternate sides until you've added 11 beads. Then repeat on the second string but this time add 13 beads.
Now take one bead and thread both pieces of string though that one bead. Tie a knot.
Repeat on the other side. Trim the ends of the string so they are even. Tie a knot and put on your fabulous new necklace. My finished necklace is around 36 inches because I wanted something long. If you want something shorter, just cut your string around 6 inches longer than you want your finished necklace to be.
It really can't get any easier than this! In less than 20 minutes and for around $6 you have a fabulous new necklace with plenty of supplies left over to make a few for gifts. I hope you have fun making your own beaded necklace.
I would love for you to come visit Happy Go Lucky and say "Hi!" I would also be thrilled to see any necklaces you make inspired by this tutorial.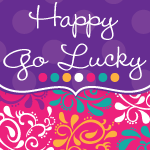 Thank you Hanna for having me!! I'm honored to be your guest today.